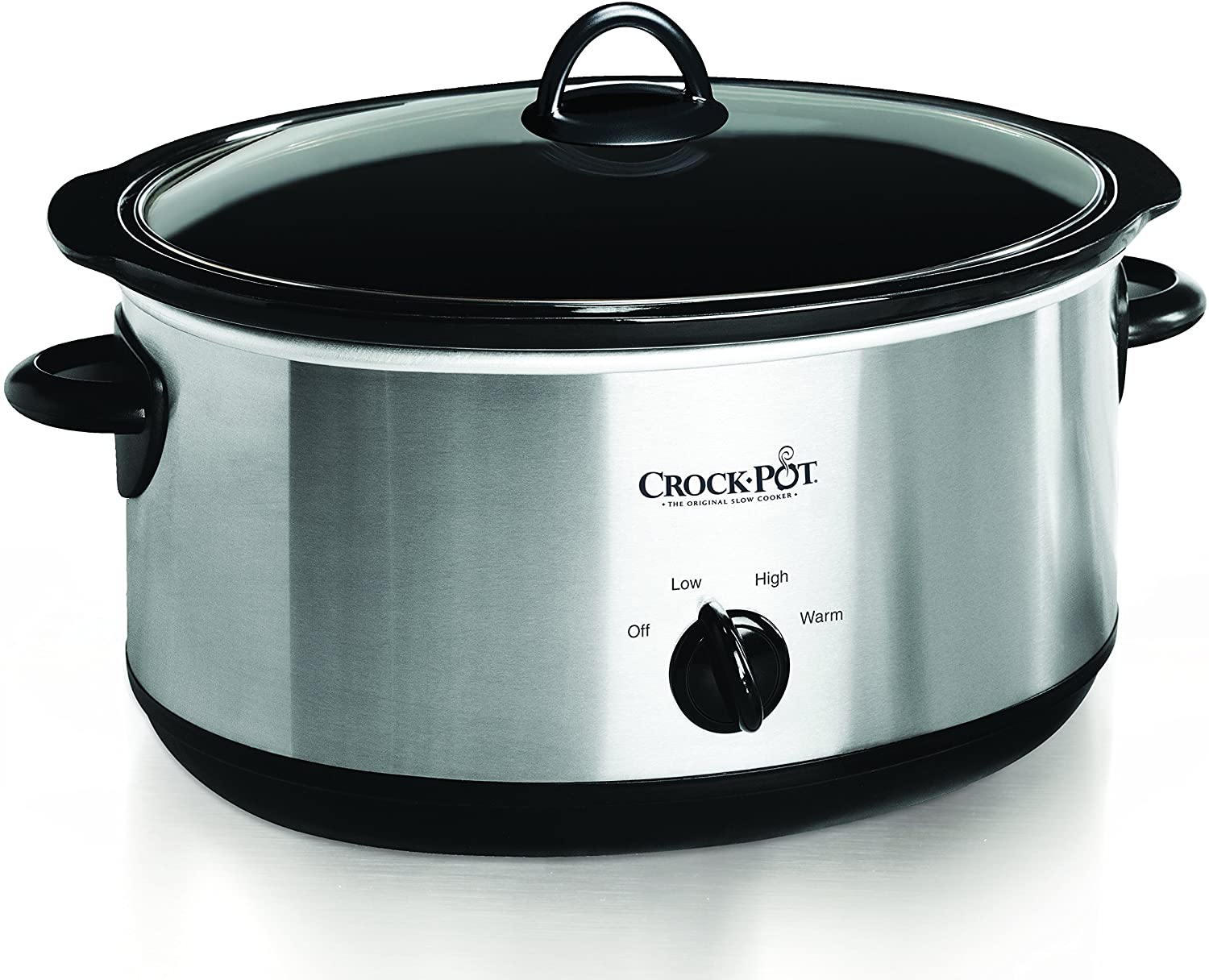 Quick Cooking Information
A Crock of Entrails Recipe


Need a great Halloween Dish for a crowd? You can assemble A Crock of Entrails in the slow cooker in just a few hands-on minutes. The sandwiches can be served straight from the crock as is, or split, topped with cheese, and broiled before serving.
African Chicken & Groundnut Stew

Black-eyed Pea Soup with Southern Vegetables

Busy Day Slow Cooker Burrito Bake

Cajun Pulled Pork Recipe


Cajun pulled pork is perfect for sliders, and perfect to serve at Mardi Gras. It can be served on Brioche buns or crispy French buns. Make sure you serve Mardi Gras Slaw on the sandwiches.
Caramelized Onions in the Slow Cooker

Chicken Tagine with Olives & Preserved Lemons

Company Turkey Breast Dinner in the Slow Cooker

Cranberry Onion Pork Loin Roast

Cranberry Onion Pork Loin Roast Recipe


Most of us are so busy during the holidays, that it's really nice to have a go-to dish that is quick, easy, and delicious. This one is suitable for serving company at either a sit-down dinner or buffet.
Creamy Chicken and Wild Rice Soup

Creamy Chicken with Bacon & Mushrooms

Dracula´s Hot & Bloody Bread Dip

Easy Chicken & Vegetable Lasagna

Ghastly Green Ghoul Guts Recipe


If you're still looking for a perfect dish to serve at the annual Halloween BOO-ffet, this spicy, delicious shredded chicken filling with Mexican flavors is fabulous and can be served on all kinds of Halloween buns.
Holiday Cranberry Pork Roast Recipe


Need a showstopper dish to serve over the holidays? This moist and delicious pork roast is economical, as well as beautiful. Guests will silently thank you and appreciate the fact that it isn't turkey. There is enough luscious sauce to spoon over rice, and the dish is cooked in the slow cooker.
Hot Mushroom Dip Recipe


Looking for an easy, good appetizer to serve at your holiday party? This dip is luscious and addictive.
Irish Cider Braised Pork Recipe


If you're looking for a traditional Irish dish to serve on St. Patrick's Day, You might consider this luscious, moist pork with lots of onions and a hint of apples. It's easy in the Instant Pot, but can be made just as successfully in the slow cooker.
Italian Meat, Vegetable, Bean & Pasta Soup

Lisa Graham's Mexican Pork Tenderloin Recipe


Three ingredients and a slow cooker are all that are needed to make this easy and versatile pork. It will become a favorite any time of the year.
Lisa Graham´s Mexican Pork Tenderloin

New Year´s Black-Eyed Peas & Rice

Off-The-Shelf Everything Mexican Soup

Orange Chicken with Zucchini & Walnuts

Pork Chops in Thai Yellow Curry

Quick Cooking in a Slow Cooker


Quick Cooking in a Slow Cooker - Is it an oxymoron?
Slow Cooker Asian Lemon Chicken

Slow Cooker Bacon Cauliflower Cheese

Slow Cooker BBQ Baby Back Ribs Recipe


Ribs are one of the most popular soul food dishes and are perfect to serve on Martin Luther King, Jr. Day.
Slow Cooker Beef & Guinness Dinner

Slow Cooker Cheddar Bacon Potatoes

Slow Cooker Chicken & Veggie One-Pot

Slow Cooker Chicken Lydia Recipe

Slow Cooker Chicken Tikka Masala

Slow Cooker Chicken with Plum Sauce

Slow Cooker Chinese Take-Out Chicken

Slow Cooker Corned Beef and Cabbage

Slow Cooker Country Captain Recipe


Country Captain is a time-honored southern dish that is generally time-consuming when made the traditional way. It's easy, however, when done in the slow cooker, and requires minimum hands-on time. This chicken dish will become a favorite.
Slow Cooker Cranberry Orange Chicken

Slow Cooker Curried Butternut Squash

Slow Cooker Easy Layered Brunch Bake

Slow Cooker Easy Layered Brunch Bake Recipe


This brunch dish is very easy and contains what most everyone likes. It consists of hash browns, ham, cheese, and eggs, and is quick to put together.
Slow Cooker Enchilada Casserole

Slow Cooker Garlic Cheese Grits

Slow Cooker Green Chili Chicken

Slow Cooker Green Chili Chicken Recipe


This delicious chicken is easy to make; modern slow cookers cook at a higher temperature than the old ones, so this yummy chicken is finished in less than four hours. Most slow cookers take 2 1/2 to 3 hours.
Slow Cooker Indonesian Chicken Curry

Slow Cooker Indonesian Curry Recipe


Although this is a fairly mild curry, you can adjust it by adding extra jalapeños. Either way, it will become a family favorite. You can also vary the vegetables to make it your own.
Slow Cooker Irish Beef & Guinness Dinner

Slow Cooker Italian Green Beans & Mushrooms

Slow Cooker Italian Polenta


Use Minnesota´s State Grain in this Quick, Easy, and Delicious Hot Dish
Slow Cooker Italian Sausage with Peppers & Onions

Slow Cooker Mexican Refried Beans


The slow cooker is perfect for cooking dried beans. There is no presoaking needed, and the beans turn out great every time. The best part is that they cook unattended.
Slow Cooker Mexican Refried Beans

Slow Cooker Mexican Sweet Pork

Slow Cooker Red Onion Marmalade

Slow Cooker Roasted Garlic Smashed Potatoes

Slow Cooker Rosemary Orange Pork Roast

Slow Cooker Southern Green Beans

Slow Cooker Southern Smothered Pork Chops Recipe

Slow Cooker Spiced Indian Pilau

Slow Cooker Tamale & Rice Bake

Slow Cooker Tamale & Rice Bake Recipe


Mexican food is a must on Cinco de Mayo, and this easy casserole is perfect to serve. It's really good, though and you'll want to serve it year round.
Slow Cooker Tarragon Chicken & Whole Grain Pilaf

Slow Cooker Texas Jailhouse Chili

Slow Cooker Thai Beef and Peanut Curry


Short on time? Throw a few ingredients in your slow cooker in the morning, and authentic Thai curry can be served 20-30 minutes after you arrive home from work!
Slow Cooker Thanksgiving "Leftovers"

Slow Cooker Zucchini & Bacon Frittata

Slow Cooker Zucchini Cake with Caramel Sauce

Southern Pork Chops & Collard Rice

Sweet & Spicy Slow Cooker Barbecue Beans

Thai Chicken & Vegetable One Pot

Thai Curry in a Slow Cooker - Inspiration from a Montreal Restaurant


Fabulous Restaurant-Style Thai Red Curry in a slow cooker - Hands-on time 10-15 minutes!
Editor's Picks Articles
Top Ten Articles
Previous Features
Site Map
Content copyright © 2018 by . All rights reserved.
This content was written by . If you wish to use this content in any manner, you need written permission.
Contact Karen Hancock for details.