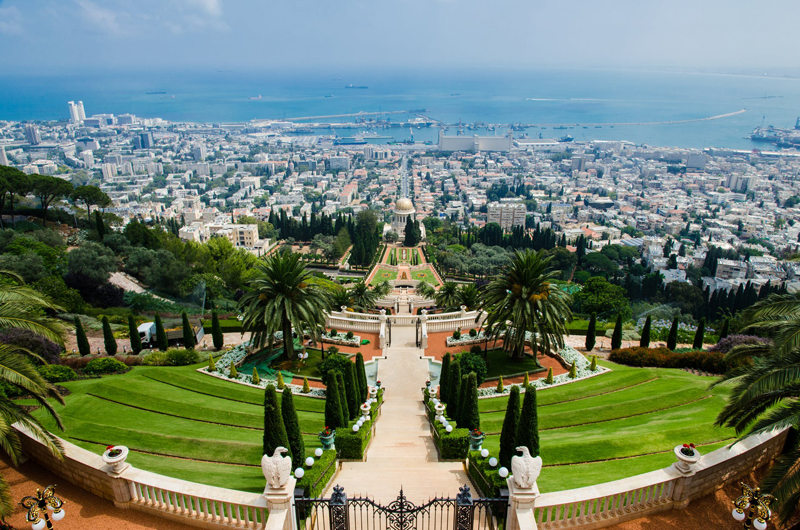 It is easy to be overwhelmed by the state of the world as presented by the news media, politicians, clerics, and anyone else who wants to sell us something. But that doesn't mean the world
isn't
a dangerous and often unpredictable source of challenges.
Every religion I have come across has theology to help its believers cope not only with the general dangers inherent in living on this planet, but also to deal with what their neighbors, relatives and humanity in general perpetrate. A recent interfaith prayer meeting for victims of yet another disaster, brought this home to me: how much time and emotion religious people put into asking for protection. And how much they report receiving!
So I went looking to see if I could find some specifics within the writings of Bahá'í Faith. Because this religion is, according to its followers, only the latest in a long line of guidance from one God that has had many chapters over time, we are actually quite blessed to have so much information preserved in writing, direct from its source.
There are hundreds of books, thousands of questions answered and tens of thousands of letters from the central figures of the faith. Fortunately, I didn't have to search them all! But I did come across several prayers that were unfamiliar to me, along with a few that have been favorite comforts for a long time. What follows are some samples:
For when life gets too much to bear alone, this from Bahá'u'lláh, the Prophet/Founder Himself, with the instruction: "If thou desirest to be freed from affliction, recite thou this prayer which hath been revealed by the Pen of the All-Merciful:"
O God, my God! I testify to Thy unity and to Thy oneness. I beseech Thee, O thou Possessor of names and Fashioner of the heavens, by the pervasive influence of Thine exalted Word and the potency of Thy supreme Pen, to aid me with the ensigns of Thy power and might, and to protect me from the mischief of Thine enemies who have violated Thy Covenant and Thy Testament. Thou art, verily, the Almighty, the Most Powerful.
"This invocation is an impregnable stronghold and an indomitable army. It confereth protection and ensureth deliverance." -
Bahá'í Prayers and Selected Holy Writings,
p. 87
And this little mantra may help in dealing with assorted things I'm anxious about, like storms, earthquakes, volcanoes, floods and fires (threats of which we are lately bombarded with daily): "On the appearance of fearful natural events call ye to mind the might and majesty of your Lord, He Who heareth and seeth all, and say
Dominion is God's, the Lord of the seen and the unseen, the Lord of creation." - Bahá'u'lláh, Kitáb-i-Aqdas (Book of Laws), quoted in Bahá'í Prayers and Selected Holy Writings, p. 92
I use suggested prayers in order to calm myself so that I can actually stop fussing long enough to breathe--and think--constructively. I find meditation to be very difficult when I'm so upset I don't even know what I want except relief!
After some time, prayer and a conversation with myself, most issues can be faced and either accepted or ameliorated. The difficult part for me is accepting when I can't make life go the way I want it to! And how to deal with the fact that I cannot materially improve the lives of all those in need--often not even one. Not by myself, at least.
But help is available, has been taught to mankind for millennia: roughly, if we are not tested to our limits, how do we learn to rely upon God for added strength? This age old belief that life's changes and chances have a purpose--might even be good for us--can be very comforting, as well as a powerful motivator. People can achieve incredible things with some faith and the commitment that faith can engender.
Meanwhile, this is the prayer that I use when I'm feeling particularly helpless in the face of overwhelming examples of how things can go wrong, with or without human help:
O my Lord! Thou knowest that the people are encircled with pain and calamities and are environed with hardships and trouble. Every trial doth attack man and every dire adversity doth assail him like unto the assault of a serpent. There is no shelter and asylum for him except under the wing of Thy protection, preservation, guard and custody.

O Thou the Merciful One! O my Lord! Make Thy protection my armour, Thy preservation my shield, humbleness before the door of Thy oneness my guard, and Thy custody and defense my fortress and my abode. Preserve me from the suggestions of self and desire, and guard me from every sickness, trial, difficulty and ordeal.

Verily, Thou are the Protector, the Guardian, the Preserver, the Sufficer, and verily, Thou art the Merciful of the Most Merciful." - 'Abdu'l-Bahá, Bahá'í Prayers and Selected Holy Writings, p. 107

You Should Also Read:
Why Teach Children to Pray
Positive Psychology Isn't New
Triumph over Weakness


Related Articles
Editor's Picks Articles
Top Ten Articles
Previous Features
Site Map





Content copyright © 2023 by Cheryll Schuette. All rights reserved.
This content was written by Cheryll Schuette. If you wish to use this content in any manner, you need written permission. Contact Cheryll Schuette for details.